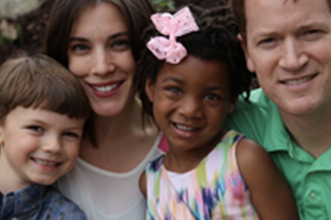 Hello,
Thank you for taking the time to consider us. We are Will and Natalie, parents of two and ready to welcome another child through adoption. Parenting has been our greatest adventure. And having been through the adoption process before, we are excited to again meet, nurture and love another new life.
Our first child was born to us in 2009. He is now a first-grader who loves school, racecars, drawing and playing in the yard with neighborhood kids. He became a big brother in 2013 when we got the thrilling call that we had been matched with a baby girl. She has brought much joy and excitement to our lives. Our daughter is a lively and cuddly little girl. She loves twirly dresses, playing with her baby dolls, stuffed animal puppies, and chasing after her big brother. She is a very social girl and has thrived in preschool. She is eager to go to the "big school" like her brother next year.
It has been rewarding to watch their sibling-bond form and grow. It's a bond that grew even stronger in 2015 when they welcomed home a baby sister. Unfortunately, our third child was born with many incurable complications caused by a genetic fluke called Trisomy 18. Because of this, her life spanned just four days. We cherish the memories of having her home with us. Those days as a family of five were precious. While tremendously difficult, we see how our little family has grown closer because of enduring difficulty. We eagerly anticipate bringing home another baby and feeling the joy of our family growing once again.
While we have never met you, we know that you must be very brave. Adoption is a blessedly beautiful journey that is also hard. We want to come alongside you (in whatever way you find comfortable) to welcome and nurture the life you now carry. However the story of your baby's life unfolds, it's our hope and prayer is that you find deep peace in whatever you choose. Your bravery is inspirational and your baby is a gift.
We would love the opportunity to meet you. We could tell you about Will's work (at a financial advisory firm) and tell you how he's the routine, numbers guy who brings balance to the free-spirited and creative Natalie. We could give you a sense of what days are like for her at home with the kids. We'd love to tell you about our family-friendly neighborhood and vibrant city. We could swap stories of adventure and family traditions too.
Families grow in a variety of ways. Our hearts were built for the journey of adoption. Should we have the great opportunity to connect our lives with yours (through the incredible, bittersweet beauty of adoption) we will forever treasure your part in the story.
Sincerely,
Will and Natalie