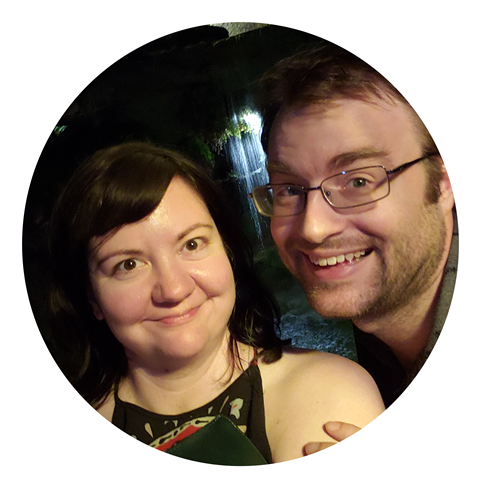 We hope to give you a window into our lives and a sense of the life your child will find with us. We know none of this is easy, but we would be honored if you chose to match with us. Thank you for your bravery and, if you choose us, your confidence in the love and experiences we could give your child. We are very excited for the next chapter of our lives to begin!
We met while attending college in Philadelphia. It was 2001 and we were both interested in musical theater and encountered each other through the university's theater program. We were just friends for three years of school, building a close relationship through our mutual love of performance, traveling, comics, movies, and other pop culture. When Amanda urgently needed a renewed state I.D. it was Scott who drove her from Philly to Virginia and back to pick it up – our first road trip! Amanda was a year ahead of Scott and after she graduated we began dating. Not long after we got engaged, we moved to Ohio and got married in February of 2009 with a small church ceremony in Shaker Heights.
We decided to adopt because we want to raise a child together. Through experience with our amazing godson we believe we would be really good at it. Adoption is our only option to have a child. We plan to talk openly with our child about their adoption. Amanda found a beautiful way to express the dynamic of our family – Scott came from his family, Amanda came from her family, and the child came from their family, and together we make our own family!
We are open to contact with the birth mother before and after adoption. We believe it is important for an adopted child to know as much as they can about their birth family.
About Amanda written by Scott:
Amanda is amazing and I could not be luckier to have her in my life. She is one of the most focused and organized individuals I know. She is strong of purpose and when she sees that something needs to be done she is adamant to make sure it gets done. She loves her friends and family deeply and is always prepared to help them however is needed. It's been amazing to watch her with our godson as she dives into the adventures he is imagining! She is also excited to embrace unique passions. She loves "nerdy" things and wants to share those passions with whomever she thinks will also enjoy them. She has designed some great outfits to wear on our travel, celebrating the things she loves in ways I would never think to. One of my favorite pastimes is just sitting back with Amanda and talking. She is so smart and insightful, and we always find some new topic to share and explore!
About Scott written by Amanda:
Scott is one of the hardest working people I know. He dedicates himself wholly to the causes and people he believes in, whether that is making sure he does his best job at work, or just making breakfast. He's also one of the most creative people I know. He can invent bedtime stories on the fly for our godson, and writes online comics. This creativity also extends to his problem solving and even cooking! As the house chef, many of the dishes we enjoy come from him being inspired by a taste and making a culinary celebration of it. Scott is one of the most patient and empathetic people I know. While he is quick witted, he is slow to anger. We have found a great balance in our marriage combining my urge to act with his disposition to assess. One of my favorite pastimes is talking with Scott about theories and "What If?" scenarios about our favorite shows and stories – he always sees a character angle I hadn't yet considered.
We are so fortunate to have had our parents as loving role models, with nearly 100 years of marriage experience combined! Scott's parents live close to us and we love exploring Ohio with them and going out on Scott's dad's boat. We bought our house in 2009 and absolutely love it! We live within walking distance of Lake Erie, multiple parks, the town aquatics center, the library, our church and public schools.
We believe in giving time to purposes we believe in and have volunteered at the International Children's Festival running children's activity tables. We love comic books and the TV shows and movies based on them. We've been to comic cons a few times and sailed the JoCo Cruise, which could best be described as a pop culture convention on the seas.
Thank you for taking the time to learn about us. We are so thankful for the change to be a part of this journey. We hope we've illustrated the love and future your child could have with us. We wish you the very best as you travel your path.
Amanda and Scott