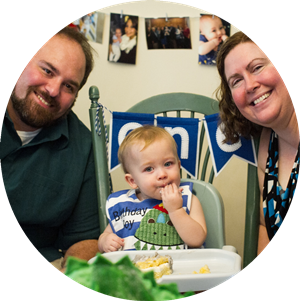 Thank you for taking the time to learn about us! It is our heart's desire to grow our family. We have such close, strong, loving relationships with our brother and sisters, and we want that for our family and for our son. Our son Jay became part of our family through adoption in late 2015. Our lives center around our families. You can be part of our lives and family too – we would like an OPEN ADOPTION.
Adoption is a strange and wonderful thing. We must rely on the love, strength and courage of a stranger at a difficult point in your life, and ask for our biggest dream: to expand our family. Our hearts are filled with admiration, love, hope and gratitude for you.
What we value most: Making family the center of our lives; having lives filled with great friends, giving to improve lives through service, developing talents and becoming more informed through education, and enriching our lives, our hearts and our minds through art, history and nature.
What we do for fun: Hang out with friends and their families, spending lots of time with our families, playing board games on our own or with lots of friends, going to the symphony, plays dance and art exhibits, and being together- going for a walk, making each other laugh, playing with trains, smiling and dancing.
Meet Krista: I am an architect, specializing in hospital design. I am a happy, caring, loving person. I am nerdy. I love to organize. I am mostly extroverted. I always try to be grateful for life and see the positive in a situation and people. I can work very hard and intensively, but enjoy taking it easy and doing nothing. I place great value on friendships and family. I like making people laugh. I see the wacky in the world and enjoy it.
Meet Jeff: I am an attorney, specializing in Elder law. I am a loving and affectionate person. I am definitely the romantic in our relationship. I am quick to laugh and I love being goofy to put a smile on Krista's or Jay's face. I am an analytical, former introvert who has made an effort to become more extroverted. I am also a nerd who loves football and sci-fi books.
Meet our son Jay: Jay was born in the fall of 2015. We met him an hour after he was born and brought him home from the hospital. We have an open adoption with Jay's birth mom and birth father- we admire and love them. We are constantly sharing pictures and text. They come to our home or we meet at parks.
We have large extended families that we get together with often. Jeff's sister was adopted as an infant, and there are many adopted cousins as well!
Adoption has always been and will be part of our lives. We want to share your child's development with you and we want to share your story. We want our relationship with you to grow naturally, to find the right balance.
We will shower your child with all of our love, devotion and protection. We have so many friends and family waiting to share their love. Your child will be surrounded by endless love! Thank you for considering our family for your child!
Much love,
Krista and Jeff